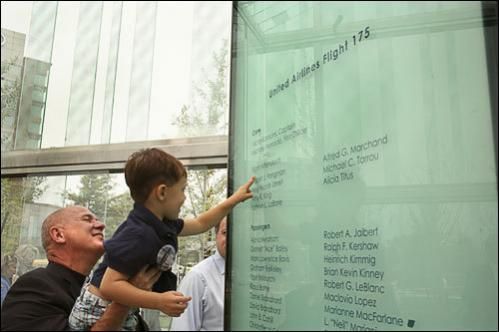 It seems like eons ago that I was selling Steinway pianos for a living.
A musician/artist/writer will do just about anything to get by.
It was a gorgeous Tuesday morning on September 11th that I paused outside the door to work.
I looked at the bluer than blue sky, the shining sun, felt the cool but comfortable breeze on my face and thought,
"What a gorgeous day. Sucks but I have to work."

It was around 8:50am that the phone rang in the store.
I answered it, "Hello, M.Steinert and Sons, how may I help you?"
It was one of our piano tuners calling to tell me he'd just heard on the radio that a passenger plane just flew into
one of the WTC towers in New York.
He thought it was strange and I agreed. We left it at that.
That CAN happen right?
The phone rang again at @9:05.
I answered again.
"Another plane just hit the other tower."
Same piano tuner, more urgent.
"What the hell, dude," I said.
It was at that exact moment that the world as I knew it had changed.
We were no longer the invulnerable United States, we were brought to our knees in front of the world.
An attack that could have and should have been avoided.
Are we safer today?
If we are, I don't feel like we are.
We currently have an administration that has no viable/visible strength, united voice or ultimate power to
condone or publicly defile such despicable acts.
While I'm still ultimately proud to be an American, I fear for all that are out of our international reach.
These days the United States is powerless.
That is a sad truth.
My prayers go out for all those that were lost those 13 years ago.
I will keep Amy Jarret and her family forever in my thoughts.
As we still mourn, we will take comfort in the thought and hope that there's something better for us out there.
An that maybe someday we will feel safe.
~m