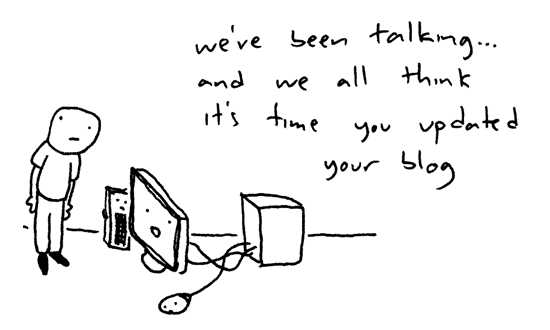 Once upon a time my blog was an essential part of my life.
I lived here almost 24/7.
God forbid I should get some godforsaken CSS error that screwed with my theme (not my theme!) or my plugins.
Life gets in the way.
Politics get in the way.
Facebook really gets in the way.
Twitter? Not so much.
I realized tonight that I have neglected a place that once meant so much to me.
I have for all intents and purposes abandoned a creative harbour that held stories, memories and many things I once held so dear.
Shoulda, woulda, coulda.
Like I need to tell you about last Tuesday night when I went to dinner with my wife for our 29th anniversary.
Anniversaries are supposed to be special and perfect, right?
We sat down and perused the menu when our waitress came by to say hi.
We ordered a few appetizers to start off.
Grape leaves & some hummus.
"Would you like something to drink before you order?" our waitress asked.
"Yes, please," I said.
Pamela ordered an Almond Joy Martini and I ordered a Maker's Mark Manhattan.
All was right with the world.
Our drinks arrived several minutes later. Perfect.
We didn't even have time to toast when I spilled the entire Manhattan all over my crotch.
As the icy concoction slithered its way to my unsuspecting jewels and eventually to the crack of my ass, I felt the need for
a new pair of pants or at least a pair of Depends.
As my manhood rose up into my abdominal cavity to escape the chill, we laughed and laughed again.
You can't make this stuff up.
They made me another Manhattan (in a sippy cup jk) and all was right with the world.
Although I did squirm and make funny faces as I ate my dinner.
Will we remember our 29th anniversary?
You can take that to the bank.
I guess the bottom line is that I've given up my energy to Facebook and other URL's lately.
And while I love talking to friends it just isn't taking care of my writing mojo.
Writers write stories and rarely do Facebook.
Change is in the wind.
"to thine own self be true"
And I am long overdue.
Let's roll . . .
~m