Archive for the Category »t-shirts «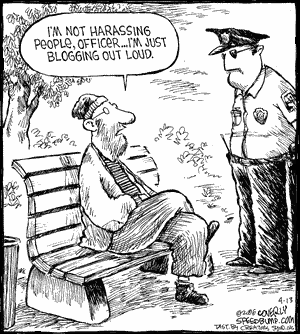 It's been obvious to me for sometime now that I have some personal issues regarding my blog.
I spoke with a close childhood friend the other night (who occasionally reads here @Smoke and Mirrors)
and he said, "I can tell you really love your blog."
He went on to say why he thought that way and I had to agree.
I do love my little place here.
It's home.
As always with me, there's a dark side, a side only seen by others like me.
It's with that in mind that I came up with 10 blogging issues that you may be able to relate to:
If you've ever:
Fallen asleep at your laptop (sitting up) while updating your plugins, theme, blogroll or widgets, you, my friend have issues.
Spent longer than the time it takes to cook an 18lb turkey while looking for that elusive 'perfect' theme, I hope you had on your blogging Depends (for the times when the bathroom just has to wait)
Posted a spam email because it struck you as oddly interesting and you just happened to find the perfect accompanying picture to go with it, it's BCD, pal
blogging compulsive disorder
Had a conversation with a close non-writing friend and somehow wound up explaining how Google Adsense works, for the love of God, get checked.
Seriously contemplated ordering bumperstickers, t-shirts and keychain beer openers with your URL on them, you need a support group.
Suffered intermittent bouts of insomnia due to one of your unpublished drafts that's been leaving you with desperate feelings of artistic inadequacy, there's a strait jacket waiting somewhere with your name already written on it.
Planned an upcoming summer vacation with more than one or two people on your blogroll, you're justifiably insane. Your wireless mouse is constantly talking to you but at least you're happy in your own little world. Eat a Snickers. You're nuts anyway.
Been jealous that Firefox can remember all 847 of your blog-related/ FTP passwords when you can't even remember your cell phone number. There's a word for people like you. Can't recall what it is but yeah, you. (and me, I guess)
Spoken to a Verizon rep in Tucson, Arizona to get your DSL fixed and somehow managed to slip in not only your blog name but your URL as well. Crazy people can be smooth sometimes.
Wondered what you did with your time before you became a blogger.
I can say that this blogging thing still makes me happy
and that I am blessed to have a wife that
understands that.
Some people aren't that lucky.
She knows what makes me tick, I guess.
And though I may tick a bit erratically sometimes,
she ultimately understands.
I'm nuts, but at least I'm lucky.
Don't get much better than that.
"Still looking for that blue jean, baby queen
Prettiest girl I ever seen
See her shake on the movie screen, blog on . . ."
BLOG ON.
Saw this MEME at Moe's and decided to throw my hat in the ring.
A few things about me;
1. Were you named after anyone? My father's father: Michael
2. When was the last time you cried? Early December
3. What is your favourite lunch meat? Capicola (spicy ham)
4. Do you have kids? 3 girls that I am crazy in love with.
5. If you were another person would you be friends with you? Absolutely. I'm a great friend.
6. Do you use sarcasm a lot? All depends on who you ask.
7. Do you still have your tonsils? Yup, a few other body parts, too
8. Would you bungee jump? Nope. My lower back is already a whacky freeway of devastated nerves.
9. What is your favourite cereal? When I eat it, oatmeal. Not the microwave crap, the real deal
10. Do you untie your shoes when you take them off? Not always
11. Do you think you are strong?  Physically? Not so much, mentally? I'm a giant.
12. What is your favourite ice cream? Frozen Pudding (just like my twin sister Moe)
13. What is the first thing you notice about people? Their voice . . . then the eyes
14. Red or pink? Red
15. What is the least favourite thing about yourself? My teeth. They look fine but they really suck.
16. Who do you miss the most? My mom and dad. Mom died in 2005 and my dad hasn't spoken a word in years. Alzheimers robs a family of everything.
17. What colour shoes are you wearing? Tan Eddie Bauer slippers
18. What was the last thing you ate? A cheeseburger
19. What are you listening to right now? Hannah talking.
20. If you were a crayon, what colour would you be? Royal purple
21. Favourite smells? A fine cigar, Obsession (women's cologne), pine, lavender, fresh basil and puppies
22. Who was the last person you spoke to on the phone? Pamela
23. Favourite sports to watch? Football and college basketball
24. Hair colour? what colour? I'm bald.
25. Eye colour? chocolate brown
26. Do you wear contacts? Used to. Not now.
27. Favourite food? Anything hot and spicy, anything that swims, mushrooms, prosciutto and good provolone
28. Scary movies or happy endings? Scary movies with really sad endings
29. Last movie you watched? The Dark Knight
30. What colour shirt are you wearing? a grey long sleeve t-shirt
31. Summer or winter? Absolutely Summer
32. Hugs or kisses? Both in total excess
33. Favourite desserts? Chocolate Mousse
34. I'm most likely to...   puff a cigar before I go to bed
35. I'm least likely to...   win the lottery tomorrow
36.What book are you reading now? The hour I first believed (Wally Lamb) / Problogger
37. What is on your mouse pad? Staples
38. What did you watch on television last night? No TV
39.Favourite sounds? My Taylor guitar (that I hardly ever play), a Steinway piano, my wife and daughters laughing, my new 8GB Nano, the purr of my 3 cats
40. Rolling Stones or The Beatles? Beatles. Great songs that will live forever.
41. What is the furtherest you've been from home? Honduras
42. Do you have a special talent?   Juggling. I suck but I can juggle. And I can play a song in two different keys at the same time. Yeah, freaky in a 'Victor Borge' kind of way
43. Where were you born? Worcester, Massachusetts
Feel free to 'steal' this one.
An obvious cheat post but what the hell.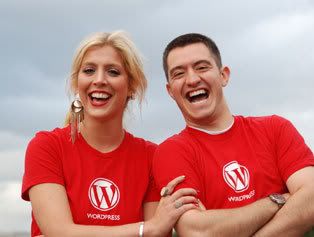 Cool or really Uncool?
Would you guys order one of these?
Just curious; the jury is out.
Actually, the girl is kind of a babe and the guy is just, well, kind of gay.
Now if it had my URL on it . . .
~m