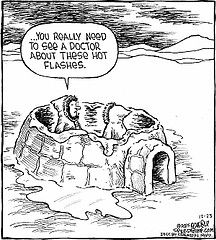 Not really sure where this thing is going but I know that in the end I will probably piss someone off and that is not my intention at all.
There's just something I feel the need to talk about and my blog is the best damn place to do it.
And why?
Because I own the joint.
(kinda)
Being happily married for almost 30 years you get to know every little thing about your partner.
By partner, I mean 'the Love of your Life'.
Many guys will laugh at that statement but I will stand behind it every step of the way.
No surprise to the readers here that I love my wife unconditionally.
Always have, always will.
Knowing how they like their tea, their steak done, their burgers done, their bed made and their shoulders rubbed, you just know how they like it.
You don't ask, you just do.
Biologically, they change through the years (as do us guys) and you have to be a sport, a team player.
But sometimes the games get rough though.
I have never been able to figure out why they call it 'Menopause'.
1872, from Fr. ménopause, from Gk. men (gen. menos) "month" + pausis "a cessation, a pause," from pauein "to cause to cease." Opposite of menarche "onset of menstruation," 1900, from Ger. (1895), from Gk. arkhe "beginning."
Really?
There's MENopause, MENstration, MENtal Illness and so on.
How about WOMapause, WOMstration and WOMal Illness?
Just saying.
1am this morning the blanket and sheet covering me were violently ripped off.
Okay, I get it, the AC is blasting and she was cold.
I'm fine with that.
I was shivering my ass off until I could grab enough of the blanket and comforter to get warm and back to sleep.
2am, the blankets and comforter are shoved over suffocating me while she lays there uncovered.
This happens on a nightly basis and I'm fine with that but really?
I understand on a biological and physiological basis why it happens but I still wonder what the hell?
Estrogen deficit?
Damn you, you hormonal hungry bastard!
Several years ago me and Pam went for an autumn drive through southern New Hampshire to view the foliage.
Some nice Jazz was playing on the radio and the heat was on low with the outside temps in the mid to upper 50's.
Suddenly, the windows were opened, the heat was shut off and I couldn't hear the music.
"What's up? You okay?"  I asked.
"Hot flash, sorry." She said.
The phrase, "Hot Flash, sorry!" should be a bumper sticker requirement for any woman beyond the age of 50.
I don't say that in a nasty way just as a reminder for the younger folks driving behind you with no clue as to where you're going.
[Insane. Wanna come along?]
It could explain a lot.
The rest of the ride was basically, AC on, AC off, Heat on, Heat off, windows open, windows closed, ad nauseum.
Do I feel for you women thrashing through this tumultuous time in your life?
Please believe that I do.
Should this thing should ever come full circle, know that us guys would rather rip our genitalia off.
If that's what it takes . . .
Or not.
Is it me or is it all of a sudden hot in here?
~m
[with sincere apologies to my wife for me talking about this.  It is fascinating. And yeah, I'm losing my blankie tonight]
[fair dinkum, as they say in Australia]