Angels, Blogging, dark, dickheads, Facebook, Family, Internet, Life, Personal, questions, Sad, Slider Show, Ugly, YouTube
1 Comment »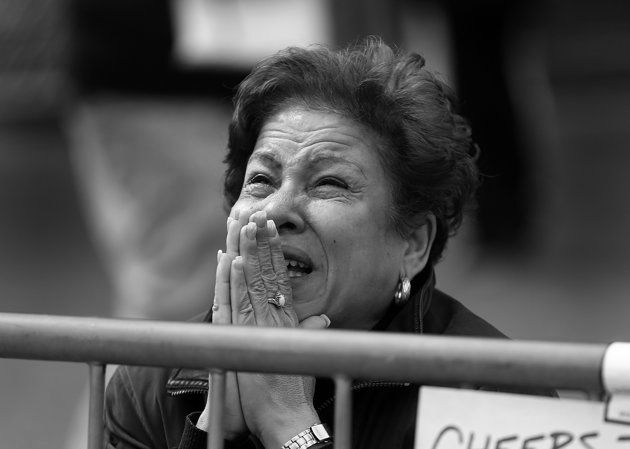 When I got into Boston on Monday morning I took a different route walking to work.
I usually slip out the ass end of Back bay station and walk through the alleys and quiet streets to Park Square
but today was Marathon Monday and a great day to walk through Copley Square on my way to work.
The sun was shining, the temps were comfortable and runners were everywhere running for buses to take them to
the Marathon starting line in Hopkinton.
Walking through Copley I saw hundreds of palettes of spring water,
King's Hawaiian Sweet rolls, pretzels, Smart Food, Vitamin Water and on and on.
People working in the many tents along Boylston Street were obviously happy to be there as they went about their preparations.
There was a palpable lilt in the air that could not be denied.
We all hate Mondays but Marathon Monday in Boston is pretty damn cool for many damn reasons.
I also remember thinking how awful it would be were something catastrophic to happen.
At 2:55PM, a woman came in for some rolling tobacco and asked if I'd heard the 'bangs'.
She was wondering if they were firing cannons for Patriots Day.
I told her I hadn't heard a thing.
I was alone in the store and went to Google after she left.
I typed in: Boston Marathon 2013 /Bombs
I came up with 2 results.
Links to a few runners' websites that simply said;
"unconfirmed reports of two explosions at the finish line of the Boston Marathon."
The links would not open
Bullshit, I thought.
Not here.
Not today.
Not in Boston.
10 minutes later the city was cracked open like an over ripe pomegranate.
Sirens, police cars, ambulances too many to count,
unmarked cars with blue flashing lights and a feeling of dread as I watched thousands of people dripping their way towards South Station.
Most were crying; some were simply distant with no facial expression at all.
You know the rest of the story; probably more so than CNN, a current font of reporting mediocrity.
I took a walk around 4PM yesterday and went down to the corner of Berkeley and Boylston Street.
National Guard would not let you go any further as everything was blockaded.
It was a big crime scene.
I looked down at a usually frantic Copley Square that now seemed post-apocalyptic, empty and dreadfully silent. My heart broke just a bit as more reality drained into my psyche.
It was not unlike a scene from 'Walking Dead' or 'I am Legend'.
The word 'nothing' came to mind.
I watched paper and debris flying through the air looking to get out of the dead space that was Copely.
That's how my eyes saw it and my brain interpreted it.
It made no logical sense to me.
Still doesn't.
On my way back to Park Square I noticed the omnipresent media camped out at the corner of Arlington and Boylston. It seemed to me to be a media freak show/ circus with bright lights and cameras going while reporting half myths and hearsay from who the fuck knows.
Homeless people were probably contributing their stories and ideas. (they may have been closer to the truth than CNN, ffs)
I am a Bostonian and I love this city. (Even though I live in the burbs)
I went to school here and currently work here and no one will ever take away the fact that this place was built on guts, strength, love, and a work ethic like no other place in the world.
This IS my backyard.
Sadly, the landscape has changed, for now . . .
Know that We are Boston.
We are Many.
And We are Pissed.
But I have a good feeling that many beautiful flowers will blossom this same time next year.
Because that's how we roll . . .
~m
ps. Photo courtesy of John TLumacki, Boston Globe