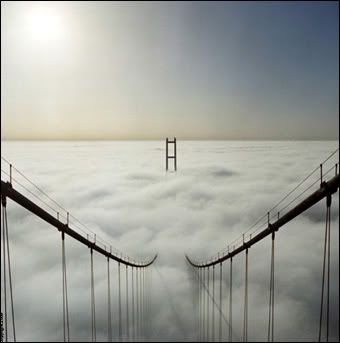 It used to be so easy years ago – this blogging thing.
Most people know this blog was my own personal bridge to an understanding of a disease that
has all but consumed the better part of the last 12 years of my life.
Writing used to be so easy, life was the hard part.
Now everything has changed.
The bridge is permanently closed and my journals have been painfully empty.
Empty can be a real painful place for a writer.
I write every day but much of what I write now is too personal and heavy for blog posts.
Many will say that the bridge never closes but for me, this one has.
My reasons for needing it in my life have changed.
I have changed.
My mind is currently like a dark grey and forbidding sky that appears to be swiftly moving yet
still appears the same.
Enigmatic, much like my grey matter.
I need to find a way to connect with my insides again.
The entrance was emotionally sutured in late March of this year.
So where do I go from here?
I'm really trying to find my way back in.
Or out.
Sorry for my absence, if you missed me.
I'm hoping you have.
I'm praying for a light to go on any day now.
And I'm thinking I'll be alright.
But time will tell . . .
~m