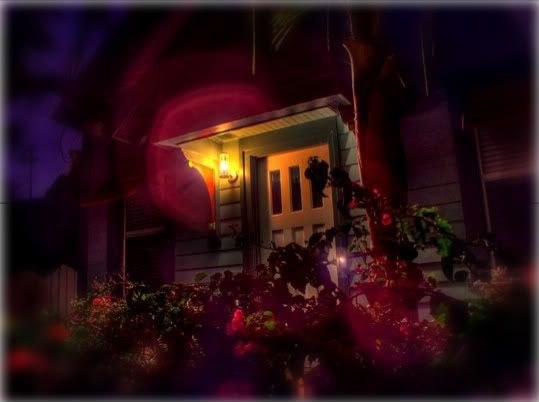 I was doing some work on my blog last Sunday and found a new template that I loved.
It's the one you're looking at right now.
It's called 'Absynthe'.
I wanted to make sure everything worked and entered some text in the 'search box' in the upper right hand corner of the site.
As I scrolled through the search results, I came across a post called 'Empty House'.
Hmmm, I thought, and I clicked on it.
I wrote this post in late August of 2008 before Jenna went off to college.
I always wax philosophical whenever a daughter leaves the homestead.
Although I can't for the life of me remember writing it
(1200+ posts will do that to you, I guess)
I read it with the eyes of a new reader, a wonderful and incredibly insightful moment for me.
As I read the post, I felt warm tears forming.
Since the death of my father, life looks a bit different to me these days.
I read my own words and got blown away.
I felt weird.
I'm not supposed to be that jazzed by something I wrote, am I?
Yet, I was.
I am not blowing my own horn here just saying that the craft of writing is a magical thing.
Sometimes it gives you back something totally unexpected.
Very unexpected.
Check out 'Empty House'.
After checking Google, it looks like I did write this.
And I did check Google, several times.
********************************************
If these old walls could speak,
I wonder just what they'd be saying
the comings and goings of life; the hellos, the goodbyes
tears of the restless nights, memories of suppers shared, stories told
time shuffles his feet like that of an old man
that just can't help but grow older,
he's now quiet as a mouse
listening to the days gone by in this almost empty house
Sunny days and skies of blue, little girls saying, "I love you"
echoes from a heart that breaks
Simply because it knows,
that nothing can ever stay the same,
life is ever changing and the tiny souls once held in gentle hands,
aren't meant to be held forever
But it's so damn hard to understand and accept 'temporary'
Take them to the edge and tell them to "fly";
towards all that makes their hearts happy,
all their souls desire,
every dream they could ever hope to find
just fly . . .
We'll watch you walk away embracing this wonderful thing called life
but inside we're still calling out your name
Although you can't hear it, we want it that way
maybe we just needed to tell you
in everything you do, know that this almost empty house will always wait for you
Doesn't matter how long or how far away you've been, it remembers,
like we remember . . .
that whenever you're here, you are truly home.
~Dad