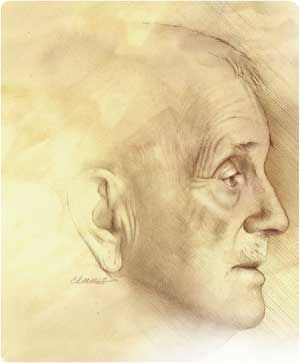 Maybe it's a sign of survival, of anguish,
of the frightening realization that mortality does exist in the deepest recesses of the mind.
Maybe it's a sign that everything is still changing,
still in that near frozen state of flux . . .
For him, for me, for the four walls that still imprison him,
for a world that looks to him as confusing today as it did several hundred yesterdays ago.
Maybe it's not a sign at all but a palpable gesture that while he sleeps,
this ravenous disease does not; it always wants more.
It replaces what it takes with something barely recognizable, something dark and foggy,
something you never want to talk about around the coffee table but remains forever.
Sometimes this thing just takes.
And takes . . .
Maybe it's a sign that he is tired, fed up with playing the host,
sick of food that looks like pureed shit put through a strainer that he has to try and swallow.
Banana Crème Pie should never look like soup.
But it does.
And that's a crying goddamn shame.
His mother was a pastry chef, Christ in a sidecar.
Maybe someday I will look back at this point in time and have a moment of revelation
but I'm not betting on it.
If this disease has taught me anything it's not to get caught up in any kind of emotional gambit.
It's a losing proposition at best.
So maybe it is a sign.
For my father maybe it's a sign that simply says 'stop' . . .
14 Responses to "Stop"
Leave a Reply