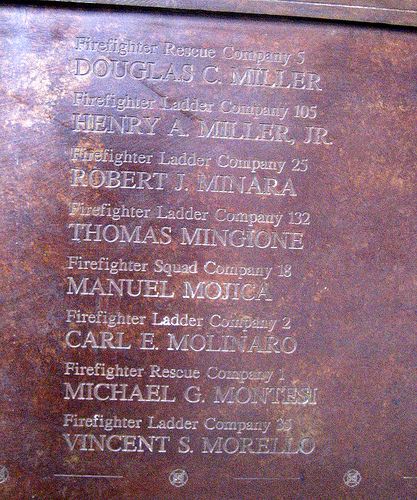 Bobby Minara was a firefighter in Manhattan.
Ladder Company 25.
On September 11, 2001, he was 54 years old and almost ready to retire.
I found the next little snippet online from a woman named 'Rita' that knew the family.
"The last time I was with Bob was July of 2001.
Bob and Paula and my brothers Tom and Mike were all together to celebrate the baptisim of my daughter's triplets, John, Michael, and Thomas.
He was his usual happy self and he had
three shirts from the firehouse for the boys (they still wear them).
Bob was going to retire in September and I remember Paula telling us she had a "sick feeling" and she wished he would leave now.  Bob laughed and said "I'm 54, how can I retire "He felt guilty".
I'll always remember that day."
Intuition is a scary thing sometimes.
I wondered how many people had a 'feeling' that morning 8 years ago.
From what I've been able to find on the web,
Bobby was a regular guy with family and friends that loved him.
He died in the line of duty at the World Trade Center.
In researching this post, I was horrified at the number of firefighters and emergency personnel that perished.
I found the picture for this post on Google and could only assume that the memorial stone is near Ground Zero
or the firehouse.
When I visit NYC next year, I plan on finding the stone if only to say a short prayer
for the man I am paying tribute to today.


My thoughts and prayers go out to the Minara family today as I know this nightmare will
never end for them.
Bobby died doing what he'd done his entire life – helping a total stranger to safety.
May God bless this unsung hero and give solace to all the hearts that he left behind.
In closing, I found a quote from a firefighters remembrance page.
It was quite simple and I could almost hear Bobby saying it:

"If my job was easy, a cop would be doing it."


Rest in the arms of the angels, RM
Thank you for keeping us safe.

(I hope I haven't offended anyone using his nickname  'Bobby'. I used it with the utmost respect.)

Click here for my 2006 tribute to Amy Jarret, a stewardess on United Airlines Flight 175.

Special thanks to Dale for keeping this thing going with his undying focus.
There's a very special place in heaven for you, my man.





You can