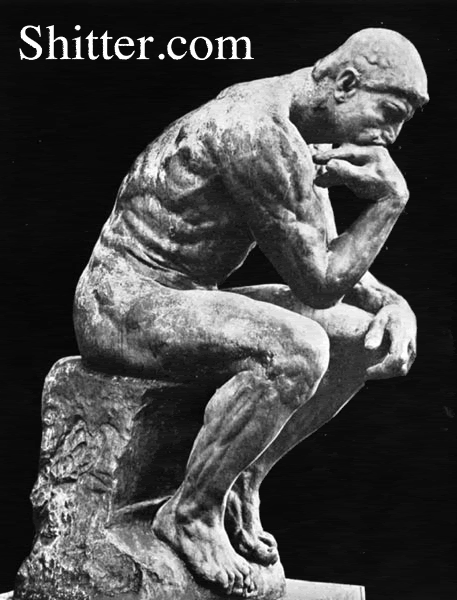 I've been thinking about starting a website called Shitter that's based on Twitter.
It's all about sharing information.
The gist of it is that you update your status from the can.
It would be all text because you just don't bring a laptop into the bathroom.
A sleek mobile application called 'Poopdeck' would be nice though.
When someone enters the 'deck' you would hear a toilet flush
and when someone 'sheets' . . .  well, you get the idea.
There's an endless list of apps that would work as well:
Shitteroo (for the folks in Australia), SweetShit, ShitStain,
ShitHead, HolyShit, Shiterator, Shits Like Me, TopSheet,
Shubble (used in times of gastrointestinal distress), Sheetburner, Loud Sheeter, ShitterMeThis, SheetShots, ShitKit, Shitbook, ShitterPhone, ToughShit
and Shwapper (can't figure out what I'd use that for but I know I'd need it eventually)
There would be funny sheets, nasty sheets, bad sheets and sexy sheets.
Maybe even badly needed sheets after a Saturday night out on the town
getting wrecked. Beer-induced sheets and painful sheets, Shitter would have it all.
My favorite app would be GeoShit, a cool tracking program that tells you
where you left your last sheet.
The truth of the matter is that some very deep thinking is done when you're
steaming one through the hoop and that needs to be addressed.
Problem is that someone already owns the URL. Truth.
Guess it's back to the drawing board for me to check out some new shit . . .