I've had some very odd things happen in my life lately and it seemed not only appropriate but almost necessary to tell you folks about it.
Aren't you glad you stopped by?
The picture below will tell you all you need to know about my commute into Boston this morning.
The train I was riding in was empty.
No people.
Just me.
It was empty for the first two stops.
Very strange.
Sitting alone on a moving train at 6AM on a weekday is not only odd but it's really creepy in a 'Rod Serling, Twilight Zone' kind of way.
No human voices or announcements, just the cracking metal creaks, low scraping groans and the desperate sounds of a wheezing ventilation system filling the wee hours of a Thursday morning ride.
I made it to Boston, falling asleep somewhere after Framingham . . .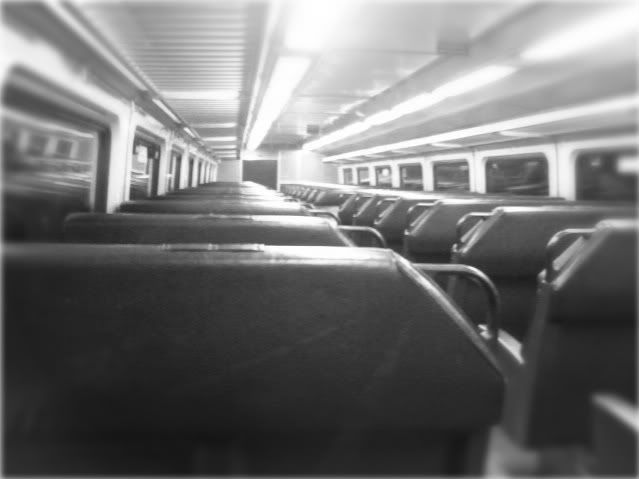 My mail slot has produced some definite weirdness over the past few weeks as well.
I got a bill from a geriatric/medical place for my mother, in care of me.
The bill originated from the assisted living place she left in 2000.
I've now received two bills and have made as many phone calls to the company.
The last several years of her life she had no dentures because she had lost every set we had made.
It got too damn expensive to make any more.
Guess what this bill was for?
You got it- a case of Crest toothpaste.
Shoot me.

Monday morning I woke up at 4:30AM and the first thought in my mind was,
"I wonder how tall Bing Crosby was?"
I kid you not.
You can't make this kind of shit up.
Before you go to Google, he was 5′ 7″ tall.
Here I was thinking he was taller.
Whatever courses through my brain at that time of the morning should be sanitized and bottled.
I'm thinking if it were administered properly, it could be used to interrogate criminals.
Or not.
Just a thought.
Any weird stuff happen to you today?

You can