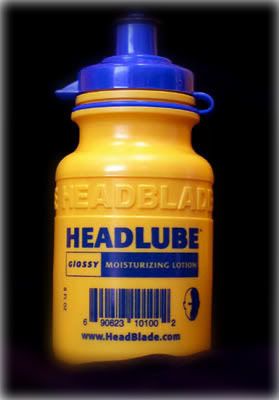 Heart my coconut
Aerodynamic brilliance
Forever full moon
My daughter Sarah came by the house a week or so ago and decided to
lounge around on the couch and do some work for school.
Methinks she needed a break from the campus crowd.
At one point she got up to go into the bathroom and I heard her start laughing.
Holding my precious bottle of Headlube, she looked at me and said, "You've got to be kidding me."
"What?" I said.
"Headlube? Come on, Dad. It comes in a friggin' water bottle for God's sake!" (she's still laughing)
"So what," I said, "It's usually 8 bucks and I got it for 2.50. It's just moisturizer and besides it's my head."
"See you got the 'matte' finish. Nice." she said.
Yeah, I'm all about the silky smooth but understated cueball noggin' I guess.
Headlube.
Hmmm . . .
Can't wait to see how long it will take for the comments to plummet this post to rock bottom.
Yeah, I got it coming with a product that sports that kind of name.
As it says on the bottle, "It's your head. Buy this lube."
So, I did and I might add that some days my glabrescent dome is a blessed work of art.
IMHO . . .