amazing, Angels, bald, Beer, Blogging, chances, Dreams, email, Friends, God, Internet, Life, Personal, Travel, twins, women, Wordpress, writing
Add comments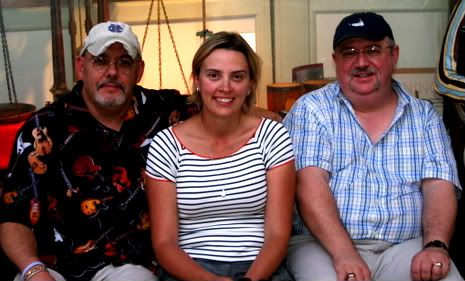 There are four people I want to meet in my life. (alright, there are a few more but . . . )
I want to hug them and tell them just how much they mean to me.
And yes, they are all bloggers.
Friends.
Dear friends.
Annie.
Mum.
Evyl.
Spaz.
I received an email several weeks ago from Susanne.
I really hate calling her Spaz, especially since I met her.
She's much too pretty to call "Spaz", IMHO.
That said, Susanne emailed me to say that she and B were going to be in Boston and wondered if a visit might happen.
I was surprised to say the very least.
It was like I'd just hit the lottery in a very unexpected way.
I told her 'yes' we have to meet.
It seemed almost predestined, to be honest.
I  first "met" Susanne years ago after a comment that she left on my blog.
She said it was "disturbingly beautiful".
I just had to follow it up.
This ultimately lead to our finally meeting up, blogwise.
Her way with comments and her personal emails have inspired me to keep on writing and to believe in myself.
She's actually made me continue writing much like my wife (who does so every single damn day).
Susanne and my wife share a striking similarity in appearance too.
Yeah, strange.
I'm a total sucker for really pretty blondes.
Our journey has been one of many splendid things, the culmination being a final meeting and a sharing of food and drink.
As Susanne said, it can never be the same after actually meeting a virtual friend.
I say it can be better.
As it currently is.
It was only for a short time that we met but I thank the good Lord that I can still "hear" her voice, feel her spirit, see her smile.
I will regret forever that our time together was all too short.
I need to start saving some money as well.
Canada is one fairly inexpensive roadtrip away.
And it's one I will undoubtedly look forward to.
Sorry, but Mr. Smith won't be coming along on this one, maybe in spirit . . .
Until then, Susanne . . .
be safe and be well
And take care of Chaaahlie (and B)
~m
ps. I've hugged one.
One down, three to go.
And Evyl? I'm hugging you dude. And no, I'm definitely not gay.
10 Responses to "She's Spasmically Perfect"
Leave a Reply