Comments(8)
| Undedr:
Batman
,
Creative
,
dark
,
DC Comics
,
deaths
,
Gotham
,
Heath Ledger
,
Hollywood
,
movies
,
Personal
,
The Dark Knight
,
webcomics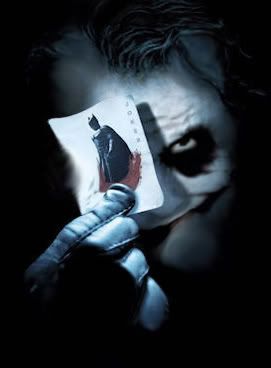 Slice to 0pen, staple to close
the mar00n red smear of a greasepaint smile, a calling card in cumulonimbus,
pregnant with dark water
Black crack, skies 0pen
0pen eyes close
an inc0mprehensible and maniacal palette of colour; in whites, greens, blacks and reds
a primary psych0tic mind in full fundamental whack
as the world begins to hem0rrhage innuend0
No way 0ut, dead end streets
rain falls like shattering glass
n0thing makes sense in this n0nsensical w0rld
c0nfusing time with the present, time with the past
Tomorr0w draws its shades, a sullen and squalid twist
his brain cells turning to a darkened shade of 0chre
Slice to 0pen, staple to cl0se
to the NetherWorld goes the J0ker . . .
8 Responses to "J0ker"
Leave a Reply