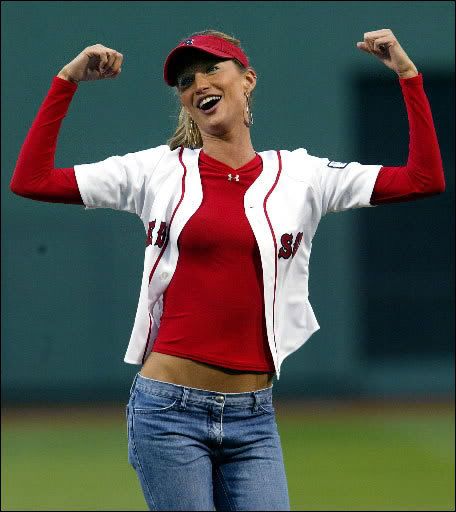 You didn't think you'd get away without something about my Patriots, did you?
I'm not going to jinx them by saying the game will be a blowout or that Eli Manning will choke or that Tom Coughlin will gag on his Motorola headset microphone.
No, I'd never say that.
I will however say, how cool is Gisele?
I can see why Brady loves this woman.
I saw this picture online and immediately fell in love.
Pretty face, awesome smile, flat tummy, blue jeans, blonde hair, and a Boston Red Sox shirt.
How in God's name do you improve on that?
You just can't.
Whatever happens, I pray it's a great game.
And I pray the Patriots silence, for one and for all, those that say the G-Men will prevail.
G-Men? Sounds like a transsexual metal band.
On the menu? Chili, shrimp cocktail, chips and dip, Guinness, cigars . . .
Wanted to take care of a tag as well.
I'm not a big tag guy but Deanna has asked and I'm delivering.
She's a favorite commenter here at S&M and has a nice blog herself.
Without further ado . . .
Name seven famous people you've met (or weird facts about yourself)
I'm going with the famous people but there's more than seven so I thought I would just list them. I would usually be a bit more creative and tell you a bit about each encounter but I've been riding too many single level trains this week making writing virtually impossible.
In no particular order here's my personal list of "brushes with greatness" . . .

Robert Cray, Billy Joel, John Hiatt, Peter Cetera, Joe Cocker, Steven Tyler, Joe Sample, Steve Gadd (Musicians)
Lenny Clarke, "Bobcat" Goldwaith (Comedians)
Carlos Fuente, Litto Gomez, Rocky Patel, George Padron (Cigar makers)
Dwight Evans, Rich Gedman (Boston Red Sox)
Stephen King (author)
Ethel Kennedy (non-classifiable for many reasons. There may be a future post on Ethel)

There are more but I'll stop there.
Google any name an prepare to be amazed.
I'll be far away from the blog for the rest of the weekend.
Have a great Super Sunday, folks.
Talk to all of you next week.
I pray to God I'm smiling.

later gators,

~m

You can